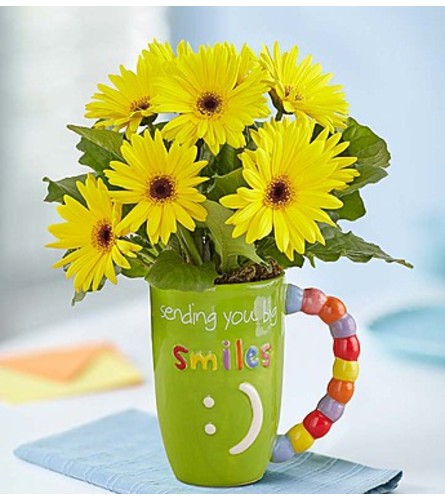 's Perfect Bouquet
All Smiles™
---
Description
---
Our desire to make someone smile is what inspires us every day. Artist Sandra Magsamen shares this same belief, which is why we've partnered with her to bring you a unique new gift! Our whimsical keepsake mug is filled with a vibrant blooming plant, ready to help you send your best wishes for a speedy recovery, a happy birthday or any other sentiment you hold inside. The mug can later be repurposed to serve up their favorite beverage. Says Magsamen: "Sometimes words can't say what's in our hearts, but a genuine smile can go a long way towards making someone feel better."
Product ID 147204
Approximately 9"H x 6"L
What People Are Saying
---
Grace Garcia
April 15, 2021
I had such a positive experience with Graceland Florist that I am afraid that it will not read authentic. I live in California and have a family of wonderful friends in New York. I sent them a floral arrangement through 1-800-Flowers- the local florist filled the order. Graceland Florist not only put together EXACTLY what I wanted, but, the best part of the whole experience was the customer service that IS the heart and soul of ALL companies. A young man named Santiago called me to verify the address because it was wrong on my part. He stayed on the phone with me to make sure that he did EVERYTHING to get these flowers delivered. Not one time did he EVER lose patience, get flustered, frustrated or mad at the trouble it was causing. It would have been so easy for him to say forget it and bring the flowers back and wash his hands of the whole thing....I HIGHLY recommend this shop and from this point on, I will go DIRECTLY through them for quality and caring- This is hand's down the BEST experience I have had in months!!
Bought these flowers for my best friend very last minute and it was delivered the next day promptly. He absolutely loved them! A great last-minute decision to show appreciation for someone.
Allison
February 26, 2021
Graceland is the only Florist I use. I have been ordering flowers from Graceland for over twenty years. The quality and freshness is amazing and the arrangements are always beautiful every time I have ordered. The crew is very special. Many things have changed over the years but Graceland remains one of the best in the business. I give Graceland a rating of a 100 percent in every way. Thank you all!
Reviews Sourced from Google and Lovingly
You May Also Like
---