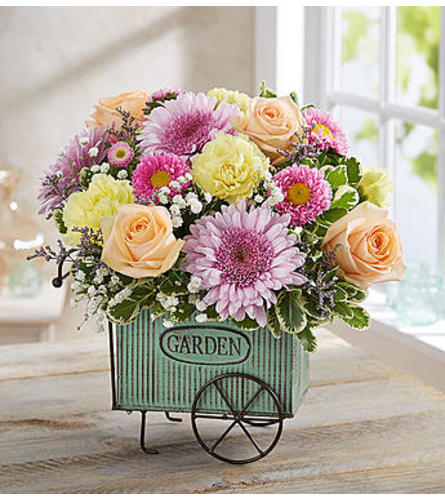 's Perfect Bouquet
Blooming Garden Cart™
---
Description
---
Beauty is coming their way! Overflowing with bright spring blooms in shades of peach, pink, lavender, and yellow, our exclusive rustic French flower cart is gently brushed in soft blue with a vintage beveled design and "GARDEN" imprint on front. The enjoyment doesn't stop when the flowers expire, either: This charming-and functional-piece can be reused for planting or holding gardening tools.
Product ID 161873M
Approximately 12"H x 12"L
What People Are Saying
---
EvaMarie
February 18, 2021
My original flower order for my mom for Valentine's Day was delay from another florist. I ordered a dozen roses last night and 1-800-flowers fulfilled and delivered my flowers by 11am this morning! The packaging said "Graceland Florist". The flowers were beautiful and super fast delivery. I highly recommend.
The team made my day! Great service and the team was able to arrange a beautiful set a flowers for me to give to my wife on Valentine's Day. My delivery online was suppose to come in after Valentine's Day but when I went in and explained what happened - they made it for me within 10min! They were very busy but went out of their way to help me. I really appreciate it!
Carolyn Derrough
January 21, 2021
I cannot praise you and your awesome and extremely dedicated delivery staff more highly! It was a dear friend's birthday yesterday (1/15/21) and the dozen long stem roses which you created are stunning! The associate who went above and beyond to get them to my friend on the Grand Concourse deserves my heartfelt gratitude! Thank you so much for a beautiful and miraculous celebration to cherish!!!!!Carolyn Derrough San Diego CA
Reviews Sourced from Google
You May Also Like
---